NEWS BULLETIN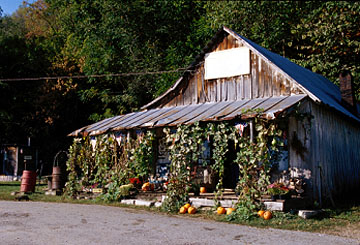 Photographer: Dawn or Dava Lane
PENN'S STORE
Great Outhouse Blowout
For a printable copy of the 2014 Great Outhouse Blowout Rack Card containing the schedule for the day, click here.
September 13, 2014
For more information about the blowout, click here.
For information about the Drive It and Show It event, click here.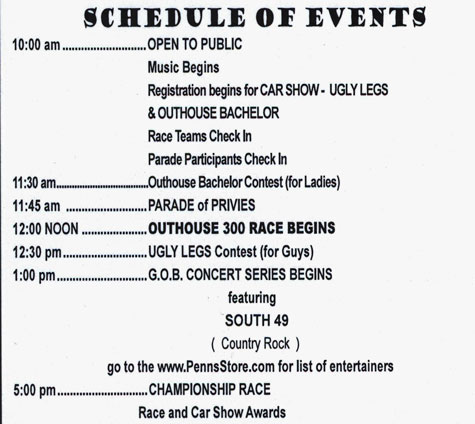 HEAR YE ! ...... HEAR YE !

. . . . . . IMMEDIATE RELEASE . . . . .
KENTUCKY & TENNESSEE LAUNCH NEW RIVALRY ...
UK and UT roll aside!
Could it be that a new rivalry is in the "can" for Kentucky and Tennessee!? Is there a new green movement a foot for the "Little Brown Shack Out Back", so aptly sung by CMA Hall of Fame inductee Billy Edd Wheeler in the 1960's!? On Saturday, August 30 outhouses on wheels and teams on foot will race head to head down Main Street, Celina, Tennessee in the 2014 MOONSHINE DAZE festival's outhouse race to flush the competition. The dawn of a new era ... no gas needed for these racers. Just good ole human flight of foot. Endurance and strength, having fun and saving the environment!
Teams representing Kentucky's most prestigious privy race, the GREAT OUTHOUSE 300 RACE held at Historic Penn's Store, outside Gravel Switch, Kentucky each Autumn during the "GREAT OUTHOUSE BLOWOUT" will be traveling to Celina, Tennessee to make a run for champ in their MOONSHINE DAZE race. Outhouses! Moonshine! Isn't this how NASCAR started?
Kentucky's " GREAT OUTHOUSE BLOWOUT" www.PennsStore.com Event Director, Jeanne Penn Lane and Tennessee's MOONSHINE DAZE, www.moonshinedaze.org Race Director, Ike Bonecutter invite all to join in making outhouse race history at Historic Courthouse Square in downtown Celina, Tennessee this August 30, Labor Day weekend.
Anyone wanting to join in the state line rivalry and try their racing skills, can get more information at:
KENTUCKY ... www.PennsStore.com email: PennsStore@aol.com
Event Date: Saturday ~ SEPTEMBER 13, 2014
Beginning at 10:00 AM ~ PARADE of PRIVIES 11:30 AM ~ RACES begin at HIGH NOON
TENNESSEE ... www.moonshinedaze.org
Event Date: ( August 28 ~ 30 ) RACE ... Saturday ~ August 30, 2014 Pit Open for spectators 9:30 AM
Come by the Store (Open weekends)
Hours until October ... Saturday (11 AM - 6 PM) ~ Sunday ( 2 PM - 6 PM )
or
PHONE: 859.332.7715 EMAIL: PennsStore@aol.com
Also, spread the word!! We need all the help we can get!!!
Thanks to all of you who have supported Penn's Store in the past!!! We love you all!!!


<![if !supportLineBreakNewLine]>
<![endif]>
************************************
For More Information:
Penn's Store
257 Penn's Store Road
Gravel Switch, Kentucky 40328
Phone: 859-332-7706
E-mail: pennsstore@aol.com
GPS Coordinates: N37.549912; W085.028191


STORE HOURS
( All hours are "country hours" - give or take a few minutes.)

APRIL thru SEPTEMBER
Saturday 11 AM ~ 6 PM




Sunday 2 PM ~ 6 PM

OCTOBER thru MARCH




Saturday 11 AM ~ 5 PM




Sunday 1 PM ~ 5 PM

* Weekday hours are by perchance or appointment presently.




Weather conditions can alter Store hours.




If coming from a distance, it is advisable to call ahead.




( 859.332-7706 or 859.332-7715 )
For more information about Penn's Store visit Jeanne Lane on her Facebook page.